Just a quick update to let you all know that I will be leaving Blogland (as I affectionately call it) for a little while. We are going on a family vacation and I am looking forward to spending some quality family time. Now, if I can only pry my boys away from their iPhones, laptops and iPads.
But before I go, you've got to check out my talented teaching partner's 150 Follower Giveaway. It includes some awesome prizes so please go by and check it out.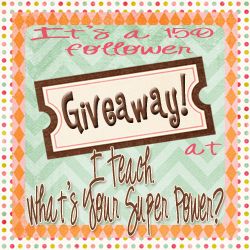 I will be stopping by on my way out of Blogland! See you soon!
Diane