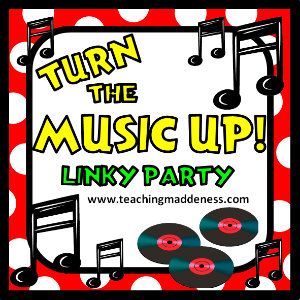 I'm really excited about the "Turn the Music Up" Linky Party at Teaching Maddness! I LOVE using music in my classroom.
I have to be careful not to really crank it up and disturb my neighbors.
I use music from many different resources. Whenever possible, I try to add the music to my iTunes library and create content specific playlists. It makes the music easily accessible.
I also use music videos from You Tube. The kiddos beg me to play them again and again! Finally, I like to stream music when we are working quietly.
There are so many cool resources that I can tell you about, but the following have been awesome year after year!
Rockin' the Standards is a huge hit with the students and have really helped support learning Math concepts in my classroom. I love that their music is on iTunes, as I can store it on a playlists on my iPhone. They also have a Rockin' the Standards You Tube Channel that gives you its of ideas for using the music in your class.
Here are a few YouTube videos I use that are very catchy:
"The Long Division Song" by Karl Roemer
"The Polygon Song" by Peter Weatherall
I also LOVE Scholastic's Study Jams! This site has over 200 Math and Science videos with karaoke-style songs. Here is one of my favorites!
Solid, Liquid, Gas Karaoke
My favorite site to stream music during quiet time is Shirley Cason's New Age Music. It is SO peaceful. You will love it so much, you will find yourself listening to it at home!
My personal favorite is
Icicle Melt
on her Winter Mornings CD.
I hope you found something in my favorites that you can use. Have a wonderful day!