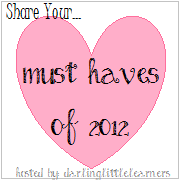 #1 Downton Abbey
This show has been the best diversion a teacher could ask for! Two years ago, I was scrolling through Netflix and found this British series on Masterpiece Theatre. I was instantly hooked. It is now it's third season, but if you haven't seen it, be sure to watch it from the beginning. You can watch it for free at Hulu. You can thank me later!
#2 First in Math
My principal brought this Math Program to our school and it has been a HUGE success. Our staff and students have really embraced it. I encompasses all math concepts by grade level. Students earn stickers as they progress through the skills. Each class has a "Player of the Day" who is rewarded by wearing a "Player of the Day" lanyard. The students progress through levels that go from "Rookie" to "Mathematician".
I require my students to earn 100 stickers per week as homework.
Our school is currently #3 in Texas (1,530 stickers per student) and #87 in the entire country.
#3 All My Apples....
I can not lived without all my Apple products. This is my latest addition and it is soooooo fast. Call me a tech geek, but Apple has made my life so much easier. I create, communicate, record, photograph, research, calculate, blog, listen, learn, etc....... all with ease thanks to Apple. If my house was on fire, I would grab my family, my pets, and my Mac.....in that order!
#4 Ink Joy Pens by Papermate
I love these pens! I am very particular about my writing tools, especially with all the grading I do. These pens are as smooth as they advertise and never leak out extra ink. They come in so many

v

i

b

r

a

n

t

colors! I prefer not to grade with

red.

And my students know that the white pens belong to me!
#5 Ancestry.com
1st Row, Second Adult from Left, my Grandmother
2nd Row, Second from Left, my Grandfather
2nd Row, 3d from Right, my Grandmother's brother (killed in WWII)
2nd Row, Second from Right, my Grandfather's brother
I highly recommend exploring your family history. I use Ancestry, but there are tons of free resources out there. I'm close with my family, but there have been many things that have discovered that I would have never known with out the research resources provided by ancestry. Once of the coolest things I discovered is that I am related to Lou Hoover, former First Lady. Also, that my ancestors were among the first pioneer families that settled Ohio. They received a land grant as a reward for fighting in the Revolutionary War. What will you find?
Just a quick reminder.....
My 200 Follower Giveaway ends today! Don't miss your chance to enter!