Merry Christmas to all my blogger friends! I just love being part of this community. Despite one of my sons being very sick (with bronchitis AND the flu), it's been a wonderful holiday.
This is the first year I've participated in the Holly Bloggy Christmas and it was a blast!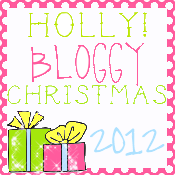 The theme this year was "your favorite things".
My
exchange partner was Laura at
Kinder Kraziness. She is expecting her first baby in March (which is beyond exciting)! I couldn't resist incorporating this exciting event in our exchange, so her first gift was the Classic Edition of The Night Before Christmas by Clement C. Moore. It was my children's favorite on Christmas Eve when they were little. I hope her little one will enjoy it, too. I also go her a Snow Family Christmas Clock. I have one that I put up every year in my kitchen. It plays a different Christmas carol at the top of every hour. It is light activated and stops playing at night when the lights are off. I hope you enjoyed them, Laura! I can't wait to here about her blessed event.
Laura sent me a wonderful package full of things to pamper myself...Margarita lotion & foot scrub, peppermint eucalyptus sugar scrub (heavenly!), and an H ornament.
I really loved these nail art owl decals. I LOVE owls!
What a treat! I needed it in the worst way. Thank you SO much, Laura!
Enjoy the remainder of the Christmas holiday!